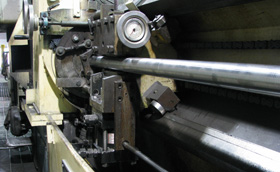 Turning a hot rolled bar gives it improved size, straightness, and concentricity together with freeing the product from decarburization, seams, and other surface imperfections.
If you begin the turning process with a cold drawn bar you would achieve all these attributes in addition to increased strength levels and improved machinability depending upon the grade of steel being used.
For more information about Corey Steel's cold drawn turned & polished steel bars, please see Products > Turned & Polished.
CAPABILITIES
Product
Finished Size
Length
Typical Surface Finish Ra
Turned and Polished
.500″ – 3.150″
Min 8′ 10″, Max 25′ 6″ *
32 – 75
* Max length may vary depending upon equipment
** If less than 15Ra is required please inquire
Tolerances for Ground & Polished
Carbon
Alloy
Rounds- Cold Drawn or Turned & Polished
Max Carbon Range0.28% or less
Max Carbon Range0.28% to 0.55% incl.
Max Carbon Range0.28% or less
Max Carbon Range0.28% to 0.55% incl.
To 1-1/2″ (38.1 mm) incl.
.002″ (.0508)
.003″ (.0762)
.003″ (.0762)
.004″ (.1016)
Over 1-1/2″ (38.1 mm) to 2-1/2 (63.5 mm) incl.
.003″ (.0762)
.004″ (.1016)
.004″ (.1016)
.005″ (.1270)
Over 2-1/2″ (63.5 mm) to 4 (101.6 mm) incl.
.004″ (.1016)
.005″ (.1270)
.005″ (.1270)
.006″ (.1524)