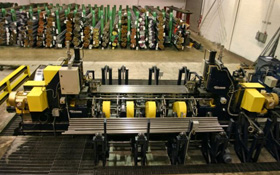 At our new facility housing multiple continuous drawing machines we can face and chamfer the ends of our cold finished bars during the production process.
We also have new equipment to chamfer material offline, giving us the ability to chamfer diameters as large as 4 inches and the flexibility to process material from inventory.
An increasing number of customers require chamfered and faced bar ends at the lead end of a bar for smoother insertion into a collet or at the trailing end to prevent damage to an automatic bar feeder. Having the ability to perform this function in or off line allows us to meet our customers' particular needs for product availability and prompt delivery.
CHAMFERING
Shape
Rounds
Hex
Diameter
5/16″ – 4″
5/16″ – 2 7/8″
Length
up to 20′ 0″
up to 20′ 0″