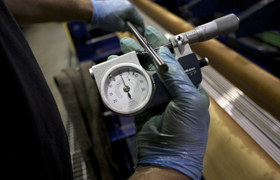 Ground and polished bars are the ultimate cold finished steel product. Corey can grind bars to exacting diameter tolerances sometimes as precise as .00025 of an inch per side or .0005 of an inch in total. This process can provide an exceptionally smooth bar with as low as a 10 Ra surface finish.
Customers' applications requiring stringent parameters on surface removal, diameter and concentricity are increasing in today's highly sophisticated manufacturing arena. To meet these demands, Corey has invested millions of dollars into our grinding facility. We can grind and polish bars up to and including 3 inches in diameter. Our small diameter grinding machines are arranged in cells so that the operator can set up for a multiple pass operation and minimize material handling.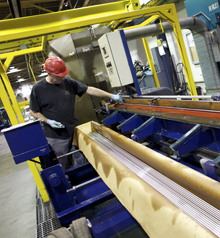 While we maintain some ground stock of particular grades and sizes in inventory for immediate shipment, we can develop special manufacturing processes to meet the different specifications of our customers. We can dictate the hot rolled bar supplier and can develop the correct hot rolled diameter and chemistry to produce the cold drawn product that can achieve the ultimate ground product for the customer's application. Our production flexibility allows us to use a hot rolled turned product for grinding as an alternative to cold drawn material. In either case, the product is  manufactured from start to finish under one roof governed by consistent quality standards.
CAPABILITIES
Product
Finished Size
Length
Typical Surface Finish Ra
Ground and Polished
.125″ – 6.000″
Max 20′ 0″ *
10 – 32 **
* Max length may vary depending upon equipment
** If less than 10Ra is required please inquire
Tolerances for Ground & Polished
Bar Diameter
(inches)
Standard Total Tolerance
(inches)
Special Accuracy Total Tolerance
(inches)
0.100-1.250
.0010
.0005
>1.250-1.500
.0010
.00075
>1.500-2.500
.0015
.00125
>2.500-3.000
.0020
.0015