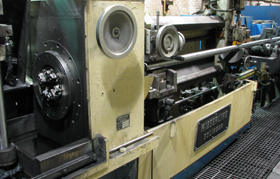 Not all cold finished steel bars need be cold drawn to meet the tolerances required by our customers. In fact, there exist a number of product subsets in the cold finished steel bar family.
A cold drawn bar is produced by drawing a hot rolled bar through a die without heating the material, then cutting it to a desired length and straightening it to commercial tolerances. The resulting product meets exacting tolerances for concentricity, diameter, straightness, length, and surface finish. These tolerances vary depending on the size and chemistry of the material ordered. ASTM A108 sets tolerances and guidelines for different sizes and grades of the product.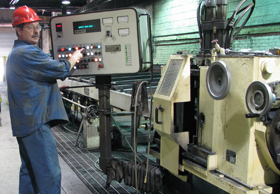 A turned and polished bar can meet these tolerances without necessarily cold drawing the material. There are end uses for bars that do not require the other benefits of a drawn bar (e.g. mechanical properties and machinability) but still demand its diameter, surface and straightness tolerances. Turning a hot rolled bar can give it those qualities of diameter tolerances, commercial straightness and a surface finish capable of being plated while also freeing the product from decarburization, seams and other surface imperfections.
As one of the leading cold finishers in North America, Corey has a distinct advantage of being able to offer all these products and making them under one roof. We choose our sources for hot rolled bars from premier producers around the globe. Whether made from purchased hot rolled bars or our own cold drawn product, our turned and polished bars are produced to exacting standards and quality guidelines as governed by ASTM A108. This care for consistency of material and control of the process means that our turned and polished bars are the highest quality.
CAPABILITIES
Product
Finished Size
Length
Typical Surface Finish Ra
Turned and Polished
.500″ – 3.150″
Min 8′ 10″, Max 25′ 6″ *
32 – 75
* Max length may vary depending upon equipment
** If less than 15Ra is required please inquire
Tolerances for Ground & Polished
Carbon
Alloy
Rounds- Cold Drawn or Turned & Polished
Max Carbon Range
0.28% or less
Max Carbon Range
0.28% to 0.55% incl.
Max Carbon Range
0.28% or less
Max Carbon Range
0.28% to 0.55% incl.
To 1-1/2″ (38.1 mm) incl.
.002″ (.0508)
.003″ (.0762)
.003″ (.0762)
.004″ (.1016)
Over 1-1/2″ (38.1 mm) to 2-1/2 (63.5 mm) incl.
.003″ (.0762)
.004″ (.1016)
.004″ (.1016)
.005″ (.1270)
Over 2-1/2″ (63.5 mm) to 4 (101.6 mm) incl.
.004″ (.1016)
.005″ (.1270)
.005″ (.1270)
.006″ (.1524)